A hearty congratulations to our Scots envoys, Elaine Shemilt and Valentina Bonizzi, for their new exhibition at Castello Pandone in Venafro.
The exhibitions consider the events of World War II in the territory surrounding Venafro, known to many of our clients as their 'other' homeland outside Scotland.
'Diletta, Girl with Suitcase', produced for the permanent collection, consists of an installation comprising a new video by Valentina Bonizzi and a photographic image by Robert Capa. The installation explores memories of the Venafro-area territory over the last seventy years.
'Winterline' by Elaine Shemilt is on display until April 2015, and includes maps, drawings, print, collage and video in a series of works inspired by the experience of the soldiers and civilians of the Venafro area during WWII.
The Museum and the artworks offer a lovely opportunity to find out about the history of the Venafro area – we've been getting to know the team there and can assure you they're great to work with and would be delighted to welcome more visitors from Scotland!
Links to further reading;
Team IAPCA
Museo Nazionale del Molise
images below: IFSWW shipment of forty two artworks by Elaine Shemilt being delivered to Castello Pandone in Venafro !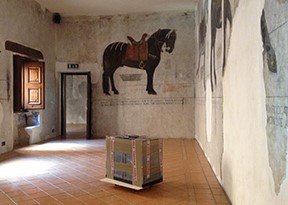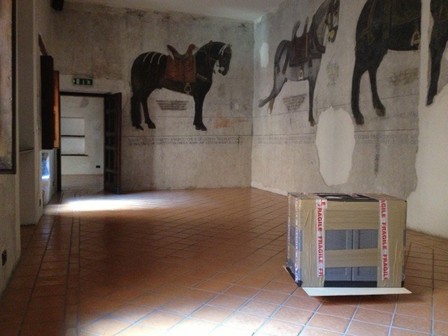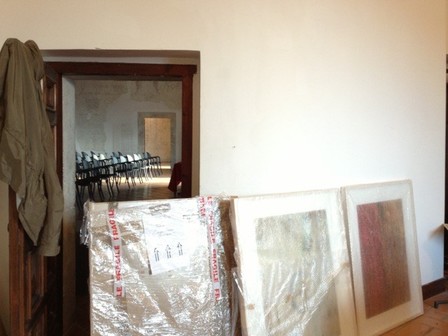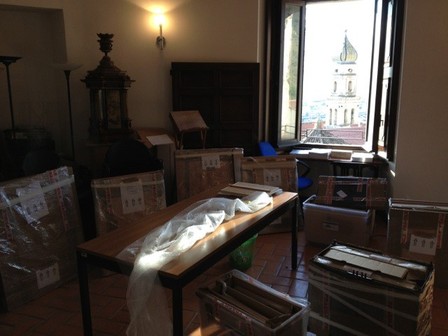 image below: artworks by Robert Capa and Valentina Bonizzi at Castello Pandone, Venafro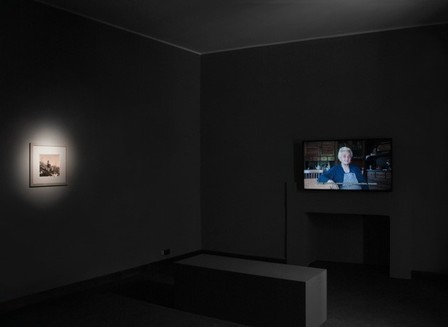 images below: artworks by Elaine Shemilt at Castello Pandone, Venafro